Top Portable Cabin Manufacturers in Nasik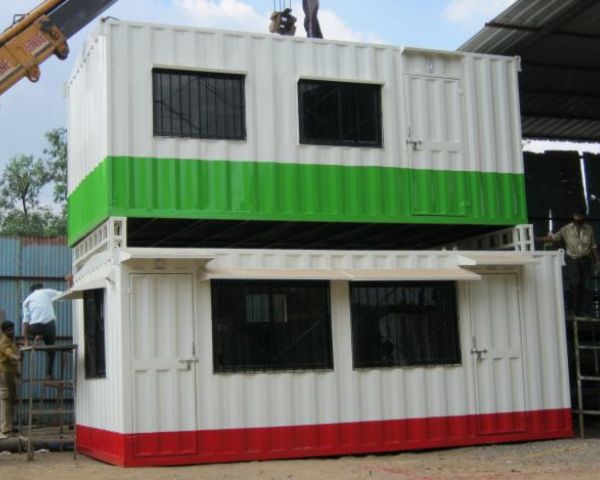 The portable cabins are used for security booth, toll booth, sleeping bunks, stores, movable toilets, and for the offices at the construction sites of real estate companies. The portable cabin manufacturer in Nasik has achieved the mastery in designing and making the highly appreciated portable cabins in the country. The portable cabins made by us are the standalone structure that can be shifted to any place within the site without much effort. The portable cabins are known in the market for their durability, robust construction, and lightweight, resistant to corrosion, longer operational life and flexibility in use.
The standard portable cabin comes with basic seats inside the cabin, electric sockets for fans, lights, glass window and door. The portable cabins are fitted with insulation wool and sealed in such a way that people inside the cabins are not affected by any weather element. Once a portable cabin is a closed rain moisture or dust cannot enter the cabin. The customization of the portable cabin helps clients to get the cabin for offices, bunks, temporary shelter for employees at distant locations with the basic or luxury features.
The company makes sure that when a portable cabin is provided to be used as an office, it has the proper electrical fitting for the air conditioner, computer systems, and heater for winters, office furniture and space for table and chairs depending on the space inside the cabin. We ensure that a client gets some of the best portable cabins at the affordable prices. The modern manufacturing facility of the Top Portable Cabin Manufacturer in Nasik provides some of the best portable cabins to the client. Our special features include
The Use of Latest Designs and User Friendly Features in the Manufacturing of Cabins:-
Use of progressive technology and quality raw material
Aesthetically designed portable cabins for offices
Quality to withstand all weather conditions
On time delivery of the products
Use of quality raw material
Customization of the portable cabins to client specifications
The portable cabin manufacturer in Nasik has own robust delivery system to reach the customers without delay. The transparency in business dealing and affordable price has helped the company to create a sizeable customer base in the city within the short period of time.