Best Porta Cabin Manufacturers in Navi Mumbai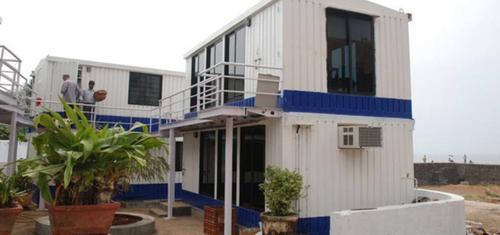 The company has set up a modern manufacturing unit in the Mumbai catering to the demand of clients in various industries. The porta cabin is used as a booth for security guards, toll collection, and temporary office at the site of the Construction Company, bunk, and movable toilets. The porta cabins are installed in small places as these are standalone structures and can be shifted anywhere without any issue.
The Porta Cabin Manufacturer in Navi Mumbai uses the premium raw material for the manufacturing of the porta cabins. The raw material is tested by the quality auditors of the company and the final product is again tested on various quality parameters before supply to the client. The galvanized sheets are used in the manufacturing of the porta cabins to give strong corrosion resistance porta cabins to the client. The porta cabins are prefabricated structures and are installed at the site of the client without any preparation.
Each cabin has seating places for two or more people depending on the size of the cabin. The cabins have electricity connection for fitting fans, coolers, air conditioner when a cabin is used for offices. The cabins are insulated with insulation wool and all corners and bottom of the cabin is sealed to prevent ingress of any water, moisture or dust. The cabins are made to withstand the vagaries of nature and give flawless services under all weather conditions.
The porta cabins of the company are appreciated in the market for their:-
Durable design and solid construction
Ability to give services in all weather conditions
Strong corrosion resistance
Longer operational life,
Safe design and cost-effective price range
Tested on various quality parameters.
The Porta Cabin Manufacturer in Navi Mumbai also provides customization option to clients to help them get porta cabin made to the specification that precisely meets their needs and requirements. The porta cabins are made in various sizes. The standard porta cabins come with a door and large windows for the better view of the area under watch by the security guards. The customization option also has more than two windows, space for office furniture, electrical connections for the air conditioner, gadgets, and separations for meeting with officials. The manufacturing unit of the Porta Best Cabin Manufacturer in Navi Mumbai has been divided into products, quality control and testing, commissioning etc. The use of state of the art manufacturing infrastructure and skilled workforce has enabled the imperial cabins to provide the quality porta cabins at cost-effective prices.